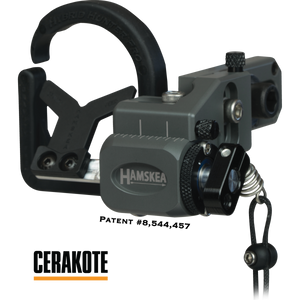 RH Hybrid Hunter Pro Micro-Tune Concrete Hamskea
Regular price

$0.00

Sale price

$199.99

Sale
The Hybrid Hunter Pro™ takes design elements from the proven VersaRest™ platform and puts them in a more streamline package that is 20% lighter. The Zero Tolerance Technology™ is key to ensure that there is no lateral play in the shaft and that the rotation action is silky smooth. The launcher shaft rides on two over-sized sealed stainless steel ball bearings that won't wear out, but continue to rotate smoothly shot after shot. The Hybrid Hunter Pro™ also adopts adjustment features like Zero Stop Technology™ for the up and down positions of the launcher which makes for an absolute repeatable launcher position ensuring accuracy. For tunability, the textured spring knob provides multiple adjust positions to change the rotation tension of the launcher shaft. Coupled with the 8 sided, non-slip, compression clamp design of the lever arm and the anti-bounce back dampening coil give you all the elements for ultimate tunability to maximize your accuracy.
To ensure bow hunting success, the new Hybrid Hunter Pro™ is mindful of the metallic sounds of archery equipment in the woods. The containment bracket is completely covered in a soft-shell rubber type coating wrapped around a composite core structure for durability and quietness. This approach has also been applied to the containment launcher with a similar proprietary material, gone are the days of having to apply felt to the launcher, the proprietary coating on the launcher will minimize sound, but is durable and lightweight. In addition, the containment brackets ¾ load gate ensures quiet and efficient arrow loading that does not interfere with your sight like a top load design. The integrated gravity feed design of the "V" feature of the containment bracket ensures your arrow is properly positioned on the launcher to lift the arrow into shooting position for a quiet and accurate shot. To make setup easy and fast, the Hybrid Hunter Pro™ comes standard with the Universal Limb Clamp Assembly that can be adjusted to put the patented in-line dampening coil under the exact tension for optimum performance. The cord itself is a heavy duty no-stretch material unlike so many other nylon based materials and is positioned on the limb with a universal rubber nonslip limb pad.
The Hybrid Hunter Pro™ has been designed to integrate world proven tournament accuracy design elements into a bowhunter specific arrow rest. Hence the name "hybrid". No longer do bowhunters have to compromise their accuracy for huntability.
This is a first of its kind in the world of bowhunting and you can only find it in the Hybrid Hunter Pro™ by Hamskea Archery Solutions. This rest is built like a panzer tank, but will perform like a fine Swiss watch.
Adding product to your cart